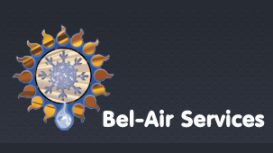 Established in 1975 Bel Air Services is one of the leading air conditioning companies across the UK and Ireland. We specialise in the design, installation, commissioning or maintenance of air conditioning systems. Our products are world class and we provide a professional service to match this. We partner with some of the world's most innovative manufacturers of air conditioning systems which include Mitsubishi Electric, York JCI, Emerson, Flexible Space, VES, Waterloo Air Products, Jam and Verastemp. This ensures our customers have access to range of high quality products we can offer our customers.
Reflecting our success Bel Air Services have been recognised by Mitsubishi Electric as the 'Dealer of the Year' across the island of Ireland for 2012-2013. This includes a seven year product warranty for all Mitsubishi Electric products products which adds to their already impressive status as a Business Solution Partner.. While our main focus remains on providing air conditioning systems to the commercial sector across the UK and Ireland, we continue to expand our horizons and are now leading the way with the introduction of an innovative renewable package.
In April 2001, the Government introduced the Enhanced Capital Allowance (ECA) to encourage businesses to invest in energy efficient equipment. The ECA Scheme enables businesses to claim 100% first year capital allowances on investment in energy saving technologies and products. Businesses are now able to write off the whole cost of their investment against their taxable profits of the period during which they made the investment. This incentive can be utilised to renew old equipment containing HCFC refrigerants which will be phased out in January 2015. Due to this deadline we would recommend that owners start now to implement this change.
---
Contact Details
Bel-Air Services (NI)
Unit 12 Westbank Business Park, 2 Westbank Road
Belfast, County Antrim
BT3 9JL
Get Directions
Show map
Services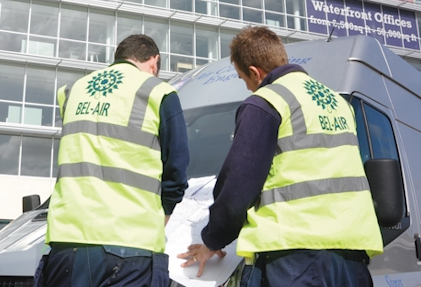 Project Design for Air Conditioning Systems:
Our design service provides complete peace of mind for mechanical and engineering consultants, contractors and end users including world leading companies such as Coca Cola and the BBC. With a highly experienced team, we are in the perfect position to deliver unrivalled designs for our clients. We work hand in hand with the clients to meet even the most rigid timetables.
Installation and Commissioning:
We install a range of world leading air conditioning systems and liase with clients to manage contract within agreed timeframes. We specialise in installing systems ranging from:
Split inverter systems.
VRF Heat recovery systems.
Roof top package units.
Energy efficient Chillers.
Close controls system for communication rooms.
Air handling units.
Closed loop systems.
Fan coil systems.
Water and Refrigerant Detection systems.
Maintenance and Servicing:
Regular, quality maintenance is a cost-effective service that ensures your business operates smoothly, without the worry of unwelcome disruption. We offer our clients access to the FGAS portal which enables them to monitor their refrigerant usage ensuring effective tracking and usage to ensure compliance with FGAS legislation. We also offer customers access to our service interactive website to enable them to effectively manage projects by providing a quick and easy way to log calls from customers and get up to date status reports on projects.
Energy Inspections:
We have a team of accredited air-conditioning system assessors able to provide building energy performance assessments to help companies ensure their premises meet current legislation requirements. The latest regulations require that air conditioning systems with an effective rated output of more than 12kW will need an energy assessment performance inspection. Our focus is on ensuring the efficient running of equipment within your premises to minimise the energy costs associate with running an air conditioning system.
Reviews and Ratings
We do not have any reviews about Bel-Air Services (NI) available right now.